2022 CCCGNY Specialty
& Sweepstakes, Sept. 11, 2022

Our 2022 specialty and sweepstakes will be held in conjunction with
the Westchester Kennel Club on Sunday September 11, 2022.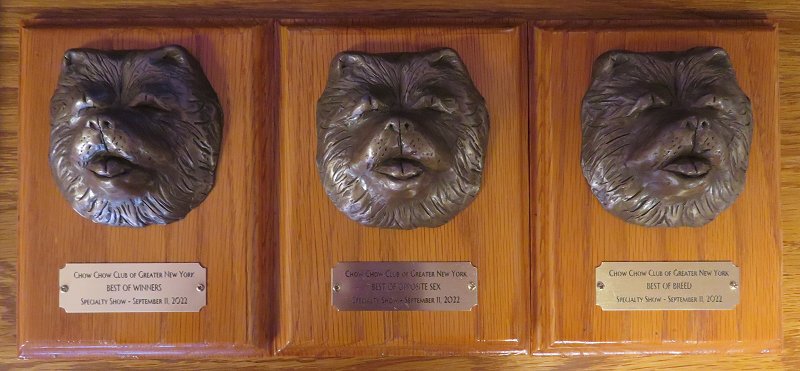 2022 BOB, BOS and BOW trophies, Bronze Chow Head on Solid Oak plaques.

We will also be supporting the chow entry the day before at
Somerset Hills Kennel Club on Saturday September 10, 2022.

All evenets will be held at the beautiful North Branch Park in Bridgewater, NJ:

Tuxedo KC (Fri) 9/9/2022 judge: Ms. Kimberly Meredith
Supported Entry judge (Sat) 9/10/2022: Ms. Janet Cohen
Sweepstakes judge(Sun) 9/11/2022: Ms. Cheryl Burns
Specialty Breed judge (Sun) 9/11/2022: Mr. Dennis McCoy
Show Superintendent; MB-F, Inc

We will be hosting a luncheon for all chow chow exhibitors and having a raffle.
Hope you can join us!

Directions to Shows
View 2022 Premium List ( PDF )

Many thanks for all your generous donations!